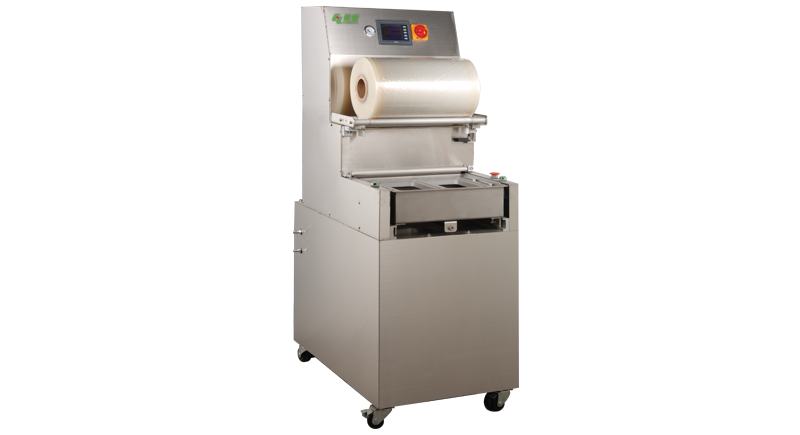 CHARACTERS
Construction is of stainless steel and aluminum materials.
Custom-made moulds to suit your application, easy interchangeable sealing head and base mould for different container types.
Using high quality European BUSCH pump and touch screen control for easy use and operator friendly.
Suitable for many types of lidding materials and tray / cup types, Eg: PP, PE, PET, paper box, CPET etc.
APPLICATIONS
Suitable for the frozen foods like seafood / beef / chicken pork take away foods etc, that maybe microwavable and require a controlled packaged atmosphere.
Suitable for restaurants shops, supermarkets and many types of food manufacturers.
Use for fresh and frozen foods, agricultural products, electronic, medical devices and medicines. It can be kept fresh, giving your product a longer shelf life than standard type tray sealing!
Functions
To keep food fresh, original, antiseptic, mold proofed and deterioration prevented. Extend products shelf-life.
Model
Dimensions

(LxWxH mm)
Power
Weight (kg)
Capacity

(pcs/hr)
Max Cup Size

(mm)
Air Compressor
EL-701MVP
850 x 560 x 1555
220 V
120
2
340 x 250
5 HP
EL-702MVP
850 x 560 x 1555
220 V
145
4
220 x 170
5 HP
EL-704MVP
850 x 560 x 1555
220 V
145
8
160 x 100
5 HP
EL-706MVP
950 x 560 x 1555
220 V
150
8
110 x 100
5 HP
Videos

EL-701MVP

EL-706MVP